John-Silver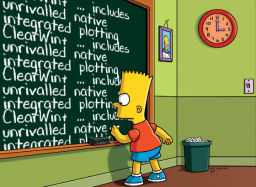 Joined: 30 Jul 2013
Posts: 1520
Location: Aerospace Valley
Posted: Fri Apr 23, 2021 5:18 pm

Post subject: 32bit, is it dead in the water ... long live 32 bit !

---

On the 'sticky post' I see the following with the latest update of a few days ago:


Quote:
SLINK64
April 8 2021:A major upgrade for SLINK64 can be downloaded from https://www.dropbox.com/s/6qcgjv8t4hmywqb/Slink64_080421.zip?dl=0.



This is v3.0 and is released as a 64 bit executable

whereas earlier versions were 32 bit executables. v3.0 has the potential to handle the linking process for much larger projects. It is released now in order to allow for extensive beta testing. Please make sure that you keep a backup copy of your current version of SLINK64.



So, this to me indicates again an inexorable slant towards the 64bit version of ftn95 ? ... a subject which I raised on a seperate post.

as Graham Taylor might have put it ... am I not wrong ?
_________________
''Computers (HAL and MARVIN excepted) are incredibly rigid. They question nothing. Especially input data.Human beings are incredibly trusting of computers and don't check input data. Together cocking up even the simplest calculation ... "