John-Silver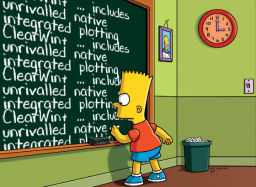 Joined: 30 Jul 2013
Posts: 1520
Location: Aerospace Valley
Posted: Tue Apr 20, 2021 9:43 am

Post subject: Regarding the 'Sticky Post'

---

Regarding the 'Sticky Post' ....
A good introduction when it was first introduced ... but am I the only one who doesn't realise when changes have been made to the files ?

The most recent being the introduction of a new sdbg v 3.0, done 10 days or so ago on 8th April.

Yes, I've now seen the post where it's referenced, but I can't help feeling that I shouldhave seen it sooner !

... particularly as I saw Dan's post about 'glitches' he's observed, assuming of course that those were related to the new version !?!?
_________________
''Computers (HAL and MARVIN excepted) are incredibly rigid. They question nothing. Especially input data.Human beings are incredibly trusting of computers and don't check input data. Together cocking up even the simplest calculation ... "
mecej4



Joined: 31 Oct 2006
Posts: 1707

Posted: Tue Apr 20, 2021 10:59 am

Post subject:

---

It is unhelpful that the "last post" date for Sticky Post remains STUCK at 17 June 2020. We have to open Sticky Post and read the contents to see if something has been updated. We should be thankful that at least then we can see the update dates.

P.S. I think that Robert just solved this problem; thanks!