John-Silver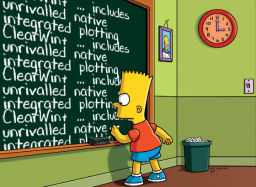 Joined: 30 Jul 2013
Posts: 1475
Location: Aerospace Valley
Posted: Sat Mar 06, 2021 12:14 pm

Post subject: Getting Co-ords by Clicking On (or near to ?) a Point

---

I have need of a clarification please.

Using GET_PLOT_DATA@ , am I right in assuming that the co-ordinates are those of the actual pixel clicked on and NOT the actual inut co-ordinates of the nearest 'plot point' ?

If so, it would be very useful to have a command which could recover the ACTUAL real point co-ordinates of the plotted graph point nearest to the cursor.
If you see what I mean.
_________________
''Computers (HAL and MARVIN excepted) are incredibly rigid. They question nothing. Especially input data.Human beings are incredibly trusting of computers and don't check input data. Together cocking up even the simplest calculation ... "