John-Silver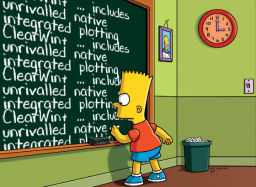 Joined: 30 Jul 2013
Posts: 1459
Location: Aerospace Valley
Posted: Sat Oct 05, 2019 1:10 am

Post subject:

---

No luck in your serch for a list back in November last yer then Paul ?
ref. http://forums.silverfrost.com/viewtopic.php?t=3886&highlight=inhibitopt
A post where the question about 'is there a list' was raised previously.

That post had originally '1' as being Loop Optimiser, then you found out that it was in fact 'a whole bunch' of optimisations

'40 ' finally being identified as the one related to loop optimisation.

Here we have '63'

2 down, 61+ to go.

I don't tthink anyone expects you to pluck all 63 + out of the air in one go Paul, that would be unresonable, but a documented list could be

started

and populated progressively as and when you get time to delve further and/or bugs are uncovered where you do the delving and uncovering.

Or maybe just start by doing search on the forums like I did which uncovered the post mentioned above.
_________________
''Computers (HAL and MARVIN excepted) are incredibly rigid. They question nothing. Especially input data.Human beings are incredibly trusting of computers and don't check input data. Together cocking up even the simplest calculation ... "