John-Silver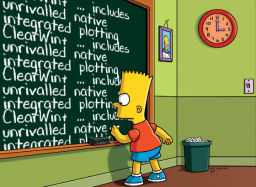 Joined: 30 Jul 2013
Posts: 1520
Location: Aerospace Valley
Posted: Sun Mar 17, 2019 11:53 pm

Post subject: FTN 95 v8.4 Personal Now Available !

---

I've just noticed that the v8.4 Personal version has been upložaded and now available on the usual page on the website.

Thanks for that.

(Although I still don't undrstand why it's not officially announced somewhere 'easily findable' on the forums - last time it was almost 3-4 weeks befor I realised it was there. Similarly for the dlls releases)
_________________
''Computers (HAL and MARVIN excepted) are incredibly rigid. They question nothing. Especially input data.Human beings are incredibly trusting of computers and don't check input data. Together cocking up even the simplest calculation ... "