for Sid (stfark1) ...



A Quick Guide to 'postimages.org' (postimage.cc) Use To Post Visible Images into Posts



1. Create an account (free) at

https://postimages.org



2. Upload your image to whatever folder you want to create (Note there appears to be only one level of folders which can be created (no sub-folders, unless I've missed the obvious somewhere)

3. when the image is uploaded you'll see automatically appear below a thumbnail of it a list of different links for different purposes. Choose the one '

Hotlink for Forums'

as shown in the screenshots below. When you click on it once it will all highlight. Just <left click> the link, select it in it's entirety & then 'copy n paste' link into your post.

4. When the post is made it will appear as if by magic in the actual post !



- Note –

just a few short months ago postimage had a glitch when their website renewal got messed up so they re-organised and changed to a different one. This is why on some of the older forum posts the image doesn't appear anymore (because the link is the old one).
If you come across any of these links and need to see what was posted you can:
a) use the lazy way and PM the original poster and ask him/her to re-upload again.
b) If the original poster no longer has a copy of the image or whatever … The original link can be simply modified (by the original poster obviously !) so you'll have to PM them to ask nicely if they'll do it for you and give them the information to do it !

Here's a link to what I wrote at the time about this :- http://forums.silverfrost.com/viewtopic.php?t=3770&highlight=postimg
See also the 2nd figure below where is marked the (current still as of today) website links to which picture links on older posts might have to be changed.

First, Here is the screenshot of the various links automatically generated for any image by postimage, in this case

when the image is first uploaded to postimages

:-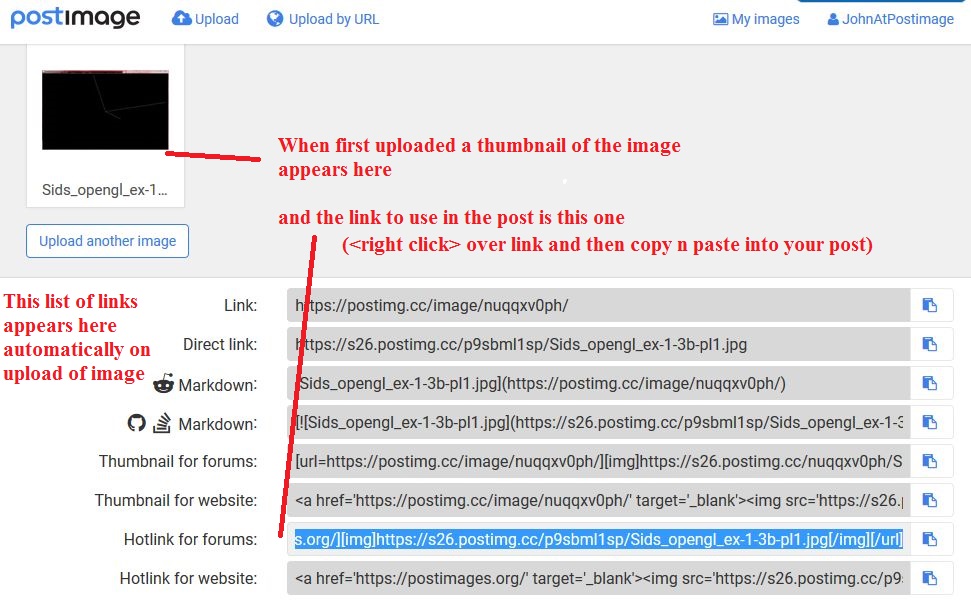 And

when there's an image already stored you want to use

…
Just navigate to the image where you have stored it in your postimages storage space and <double click> it. It will open.
Then click the 'Share' button top left) and a list of the various links will drop down ready for selection … like this ….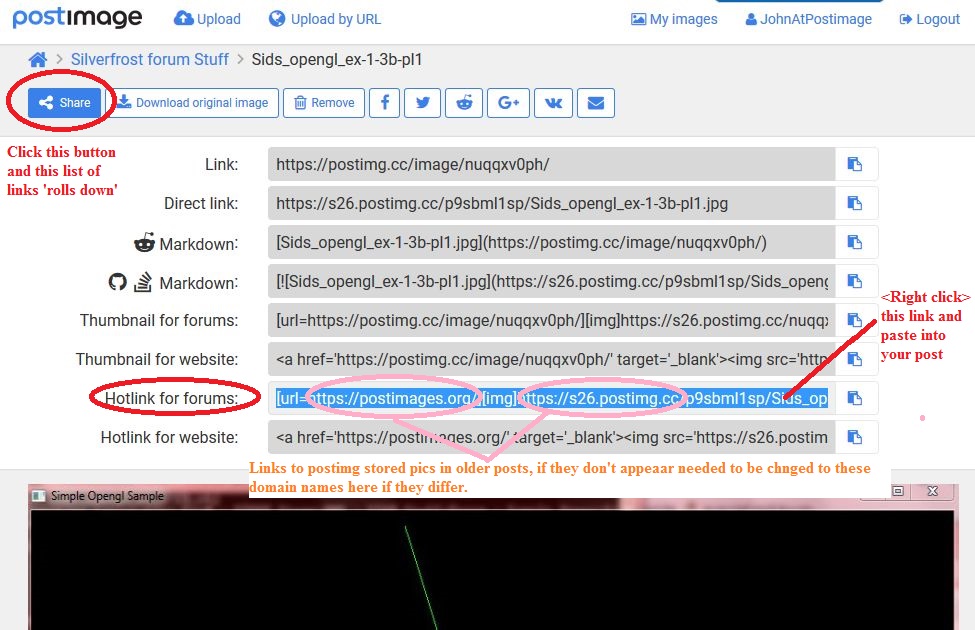 _________________
''Computers (HAL and MARVIN excepted) are incredibly rigid. They question nothing. Especially input data.Human beings are incredibly trusting of computers and don't check input data. Together cocking up even the simplest calculation ...
"