John-Silver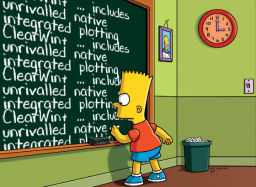 Joined: 30 Jul 2013
Posts: 1451
Location: Aerospace Valley
Posted: Sat Nov 18, 2017 9:59 pm

Post subject: Fatal Error - Bad Memory - Graphical Presentation Reference

---

A while back during discussions on the new native %pl I think, someone posted a reference to a paper and/or author which if I remember is a kind of 'reference' concerning efficient effective presentation of data graphically.

I found a copy of it at the time but since I lost a hard drive back in May it got obliterated.

I now have a 'Bad Memory - FATAL' error LOL

Can somone who remembers it or who posted it (mecej4 ? wahorger ? silicondale? ... are the potential 'suspects' names that ring bells) remind me of the author please.
wahorger



Joined: 13 Oct 2014
Posts: 850
Location: Morrison, CO, USA
Posted: Fri Dec 08, 2017 5:54 am

Post subject:

---

Not me. If I could remember, I'd tell you!