John-Silver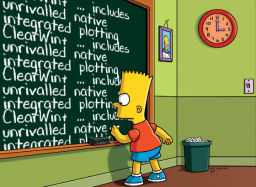 Joined: 30 Jul 2013
Posts: 1520
Location: Aerospace Valley
Posted: Mon Apr 19, 2021 11:29 am

Post subject: A Minor Documentation Confusing 'Drop-Off'

---

Paul et al.,

On this page in the documentation ...
https://silverfrost.com/ftn95-help/clearwinp/simplepl/_ploptions.aspx
... if you go to the bottom of the page there's a graph which is placed immediately after a comment about how to plot 2 curves at once ... but it doesn't!
This is because the plot relates to the section above.

I'd suggest it's worth moving the 5 lines of text beginning:

Quote:
"Here is a fragment of code that ..."


to BELOW the existing graph .... and maybe including a second plot which shows the 2 curve plotted option 'in action'.
_________________
''Computers (HAL and MARVIN excepted) are incredibly rigid. They question nothing. Especially input data.Human beings are incredibly trusting of computers and don't check input data. Together cocking up even the simplest calculation ... "