John-Silver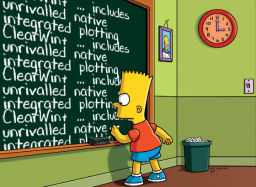 Joined: 30 Jul 2013
Posts: 1320
Location: Aerospace Valley
Posted: Sun May 17, 2020 8:58 pm

Post subject:

---

Dan, I suppose you mean the plot hanging over the menus on the rh side of the page ?

Same in Firefox.

I have noted of late what appears to be the beginning of a re-hash of the online documenttion, ranging t=from a fundamental font hange to the addition of some plots (always welcome - a picture's better than a dozen lines of text, etc ....) and diagrams (example results of code snippets).

Only to be expected a few teething troubles I'd guess.

Would be interesting to know what the overall strategy is though.
_________________
''Computers (HAL and MARVIN excepted) are incredibly rigid. They question nothing. Especially input data.Human beings are incredibly trusting of computers and don't check input data. Together cocking up even the simplest calculation ... "