John-Silver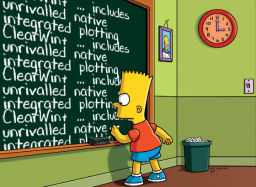 Joined: 30 Jul 2013
Posts: 1319
Location: Aerospace Valley
Posted: Thu Apr 09, 2020 9:46 pm

Post subject:

---

I'd replied to the other post first and buoyed by a little optimism that things were maybe movong on resolving issues moved to this post, and was, i think the expression is, 'gob-smacked' when i saw this one.

First, Dan, thanks for running the code with the latest version (which !i haven't yet had opportunity to install).

Paul wrote a few comments:-



Quote:
First of all, I don't want to get into a conversation on this issue so this will be my only response.


Your prerogative of course but ...
Disappointing not even to have a discussion now on the subject and the various glitches.

I'll reply anyway for posterity.



Quote:
I agree that the native %pl does not respond well to the use of large fonts.


The fonts in the example are imo not particularly 'large' !!! they are well in proportion to the overall plot !
Maybe I'm missing something.
You're point would be (and maybe still is in some obtuse way) valid if I saw some outlandishly disproportionate selection of graph parameters (not necessarily just font sizes).
I know from reading the 'original' Simpleplot %pl' manuals that BUSS struggled with selecting ' reasonably proportionate' dimension/parameter proportions to avoid over-complicating their code, so I appreciate it' not a walk n the park to cater for everything.
But then in that case there should be at least guidelines in the documentation stating clearly such limitations ?



Quote:
However in this program the initial size of the graph is clearly too small for the given font. It is not surprising that %pl has failed to do anything reasonable with this font size in the initial graph size that the programmer has provided.


??? I don't see anything problematic the defined plot size !
What 'problem' is there 'for the given font' ? Again I'm obviously missing something here.
The initial problem of caption poitioning was 'solved', if that's what's being referred to (see intermefdiate release curve (mine) and Dan's latest plot.




Quote:
There are also two heavy demands in this code. 1) The data is not good and 2) a pivot (%pv) is provided.


What is 'good' data ?
I assumed, because the %pl (unless I'm mistaken) graphic area is based largely around (modific=ed) %gr code, that %pv should by definition work. ! The question begs, what will happen using |external] with a %gr with a %pv then ?



Quote:
The native %pl was never intended to be that clever.


SO, Intention and (BASIC) user expectations are mutualy exclusive then ?




Quote:
I am generally pleased with what users have been able to do with the native %pl whilst at the same time recognising that it is bound to have its limitations.


It's not all about 'capabilities'. As I think I've mentioned on past posts,it' not a lack of any specific 'features' that's the drawbacks

, it's equally about robustness and useability and reliability

.

Just as an example, from the last plot provided by Dan above, do you really believe the axes scaling 'auto-selections' (ok, steps of 400 on the x-axis but starting at 1400 going to 2400 !? ; steps of 3e4 on the y-ais) are either a) consistent in format b) really useable ?

With, and forgive me for saying this, the instability of said selection with regard to data range (there's a fair chance that a small change in overll range in data to be plotted will completely change the labelling !
Which is not good when plotting several datasets if you do get different scales labelling (I know my managers would go crazy and give funny looks, or worse)




Quote:
So in short, I don't propose to make any adjustments based on this sample code.


Disappointing, as other codes, with 'good' font sizes, with 'good' (different) data, will undoubtedly have similar problems.
_________________
''Computers (HAL and MARVIN excepted) are incredibly rigid. They question nothing. Especially input data.Human beings are incredibly trusting of computers and don't check input data. Together cocking up even the simplest calculation ... "