TEX … A VERY , useful addition.



Has anyone who has downloaded the latest release of ftn95 delved into using TEX for equation writing, which was introduced (albeit somewhat 'under the radar' in an 'experimental' form, with the recent v8.5 release ?

Ref.
https://silverfrost.com/ftn95-help/clearwinp/gdialog/svg.aspx

This looks like a very useful addition, for labelling diagrams with primitives and also graphics.

Personal users like myself will have to wait 4 or 5 months before getting our hands on it to try out, It would be interesting for us to see what it's capable of and what it's restrictions in it's current form might be.

The documentation is a little sparse still (understandable since remember it's still experimental) and the examples given only relate to using the OPEN_ and CLOSE_ SVG file commands, and the newly developed interactive EditSVG Utility.

What is really interesting (for me at least) is the IMPORT_TEX_OBJECT@ function which can be used to 'hard-code' into a program.
The 'interactive' manipulation provided by the EditSVG Utility is great, but is obviously restricted to modifying individual SVG files after they have been generated (imagine doing it for 100 or so !!!)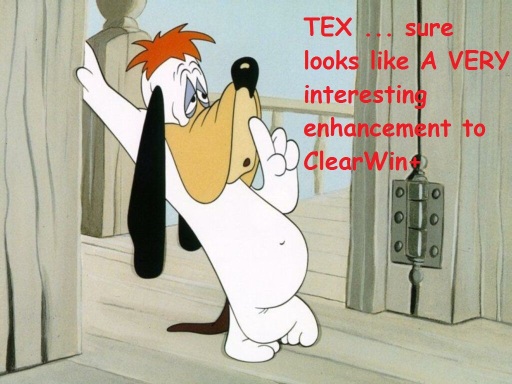 _________________
''Computers (HAL and MARVIN excepted) are incredibly rigid. They question nothing. Especially input data.Human beings are incredibly trusting of computers and don't check input data. Together cocking up even the simplest calculation ...
"