John-Silver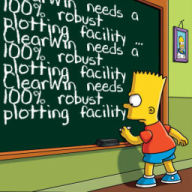 Joined: 30 Jul 2013
Posts: 1036
Location: Aerospace Valley
Posted: Thu Jan 03, 2019 9:40 am

Post subject:

---

narayanmoorthy,
I'm lost, you said:


Quote:
Do you refer to that untested plugin for VS2017 in Version 8.40?



but the silverfrost reply said that there isn't a VS2017 plugin in v8.4 !!!

or does it mean there's an early easter egg buried in there Paul ?
_________________
''Computers are incredibly rigid. They question nothing. Especialy input data.Human beings are incredibly trusting of computers and don't check input data. Together they are capable of cocking up even the simplest calculation ... "
narayanamoorthy_k


Joined: 19 Jun 2014
Posts: 141
Location: Chennai, IN
Posted: Wed Jan 16, 2019 6:38 am

Post subject:

---

JohnS,
Sorry for the belated reply.

Yes. You said it right. Can We expect the Easter eggs soon to be out?
_________________
Thanks and Regards
Moorthy