John-Silver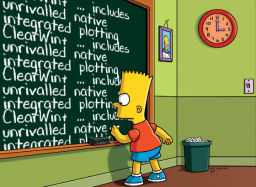 Joined: 30 Jul 2013
Posts: 1520
Location: Aerospace Valley
Posted: Sun Sep 02, 2018 7:19 pm

Post subject:

---

Completely by chance I noticed a seperate post was made in June (in the middle of the discussion on this thread.
Alex (Alex21) and Klaus (KL) will be pleased to see an answer to their question at the beginning of this post on that other other post here:
http://forums.silverfrost.com/viewtopic.php?t=3813&highlight=2017
… even if maybe not content with it (no commitment for future foreseen at the moment ?)

I take the opportunity to repeat my question asked over there which still remains …. [url= https://www.youtube.com/watch?v=iFZzN5qIiUs&pbjreload=10] a mystery[/url]
it's been intriguing me for a long time now ... who are you 'Silverfrost (site admin)' ? is it you Paul ? Robert ? David? Doubling up on responsabilities ….. or do you hail one from the loftier echelons of the SF HQ ?
_________________
''Computers (HAL and MARVIN excepted) are incredibly rigid. They question nothing. Especially input data.Human beings are incredibly trusting of computers and don't check input data. Together cocking up even the simplest calculation ... "