FK_GER



Joined: 26 Oct 2017
Posts: 35
Location: University of Kassel,Germany
Posted: Sun Sep 23, 2018 2:07 pm

Post subject:

---

Hi, John-S.,
be sure , that all arrays in the subroutines are declared correctly. There exist no problems. Without an "plot-update-process" the program works as desired. The blemish is, that at the end of the iteration a quantity of windows lays on the screen one upon the other accurately, sometimes 2x20 parts and more.
By the way, I'm using the personal edition ftn95,V8.3. The ftn95.exe dates from 13.03.2018 .

Hi, Wilfried,
thanks for the example. I will try to implement your proposed "update-way" into the course of my program. I will report on the progress of my work.
A remark to your notice "it seems that %pl can only handle one-dimensional arrays". In my code at the beginning of this post the plot-arrays are two-dimensioned. And this works without any problems. Maybe that there is a difference between a "direct-call" and a "redraw-call".
John-Silver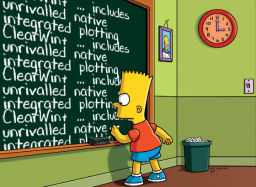 Joined: 30 Jul 2013
Posts: 1319
Location: Aerospace Valley
Posted: Wed Sep 26, 2018 7:35 pm

Post subject:

---

FK_GER, can you post the input data (loops 1 &2) (just as vectors will do) which generates the plots posted earlier on the thread. Thanks.
_________________
''Computers (HAL and MARVIN excepted) are incredibly rigid. They question nothing. Especially input data.Human beings are incredibly trusting of computers and don't check input data. Together cocking up even the simplest calculation ... "