DanRRight


Joined: 10 Mar 2008
Posts: 2238
Location: South Pole, Antarctica
Posted: Wed Oct 29, 2014 4:34 pm

Post subject:

---

Here is another damn problem with %pl. Data sensitivity. The Y values less then around 1d-50 could crash %pl. We all know it is confusing that Simpleplot is real*4 while %pl is real*8 so i do not get in this mousetrap again and all small values are substituted with something around 1e-30. Still i get this crash inside the Simpleplot as you can see from the debugger information. So far I tried many thing but my old large code crashes in some specific initial data parameter space. Will continue debug when have spare time, i lost too much for now for this @#$%.


John-Silver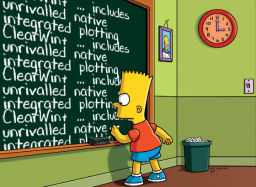 Joined: 30 Jul 2013
Posts: 1459
Location: Aerospace Valley
Posted: Thu Oct 30, 2014 5:06 am

Post subject:

---

this reminds me of an occasion some years ago when a young graduate enginee was struggling with results which weren't perfectly symmetric (a contour plot). I saw immediately that the non-symmetry was because all the 'zeros' weren't zero , they were 'small' zero numbers i.e. rounding !

Are you sure you need these small i.e. zero) numbers ?
What is the entire possible range you expect ?
If all the range is in the E-(something extraordinarily big) range it could be wise to mybe 'multiply' by a large exponential and put that factor on the axis label ?

If Paul had the resouces to put someone onto this %pl mularkey he'd probably find the errors7solutions/limitations were easy to identify and put right.